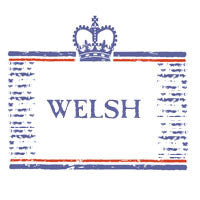 Welsh Accent
Welsh accents included with this download cover Welsh speakers from the far north to the far south of Wales. The Welsh language is much more commonly spoken in the north of Wales, but it has definitely had an influence on all Welsh accents. The border between Wales and England isn't even a river, and with the influence of England, some Welsh speakers may sound very London-like, but these materials focus on the more distinct Welsh accent.
Regular price

Sale price

$30.00

Unit price

per
Welsh Accent Learning Materials
The Welsh accent materials include recordings of AccentHelp coach Jim Johnson guiding you through learning the accent, including practice sentences in both a male and female voice, and leading you through a practice monologue.
You'll get a PDF of the teaching materials, plus three additional formats of the ebook: a PDF file to print, MOBI for Kindle, and EPUB for other portable readers.
You'll hear a number of recordings of native speakers, most of which Jim gathered while traveling through Wales. You'll get a PDF transcript of their conversations so that you can follow along as you listen.
This accent is appropriate for productions of Dancing at Lughnasa, Under Milkwood and other plays. You also hear it in films like The Englishman who Went Up a Hill and Came Down a Mountain.
The Welsh accent can seem a bit like a Northern Irish or Dublin Irish accent to some, and it also has some elements of a Scottish accent in it. It definitely shares some qualities with other accents of England, such as the accent of Yorkshire. 
All of the sound files are in MP3 format so that you can play them on your computer, load them onto your phone, or burn them to a CD.
You'll receive a link via email so that you can download all of the materials as ZIP files directly to your computer.
You'll also get future updates for free! (last update: 2019)
5% of all profits from these materials go to diversity scholarships for actors at the University of Houston.
Audio files in Two Volumes (116.1MB, 151 minutes)
Welsh Vol 1: Learning the Accent
Sound Placement, Intonation and Helpful Hints (15:04)
Changes to R Sounds (8:30)
Consonant sound changes (6:50)
Vowel sound changes (12:18)
changes to Diphthongs (5:29)
Practice Sentences (3:17)
Text Practice on Sounds (26:26)
Intonation & Placement Practice (15:03)
Monologue Example (3:29)
Welsh Vol 2: Native Speakers
Male from Llanelli reading (:53)
+ his conversation (2:05)
Female from Caerphilly reading (1:29)
+ her conversation (2:10)
Female from Erwood reading (1:37)
+ her conversation (3:54)
Female from Corwen reading (1:12)
+ her conversation (3:41)
Male from Corwen reading (1:21)
+ his conversation (3:52)
Male from Cardiff reading (1:12)
+ his conversation (2:12)
Actress demonstrating Welsh (2:24)
Female from Cardiff reading (1:21)
+ her conversation (2:09)
Male from Carmarthen reading (1:14)
+ his conversation (2:19)
Male from Cardiff reading (1:29)
+ his conversation (8:01)
Male from Newport reading (1:46)
+ his conversation (7:54)
Most of these recordings are made "in the field" so you will hear such things as birds, cars or other people in the background. A transcription of the conversations is included to help you follow along.
>
Choosing a selection results in a full page refresh.